Houston Chronicle
Window Shopping: Inside the new location of home goods store Area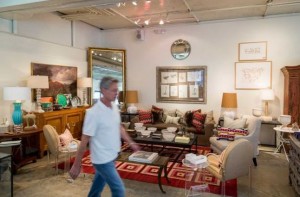 Driving down Westheimer, you could miss the new location of home goods store Area if you weren't looking for it. The store opened just a few weeks ago near River Oaks after years in its Rice Village area spot. The sign has yet to go up, and the two-level facade is understated with stone accents and rectangular steel case windows.
It took months to get the place to look this way.
Area owner Don Connelly said that when a realtor first showed him the decrepit building, a former dry cleaners which had been vacant for a few years, he had to go home and sleep on it. "I needed to architecturally work out how to make the building attractive," he said.
To that end, he has succeeded. The building was totally gutted; pea gravel walls were replaced, lovingly sloped concrete floors unearthed, and a fresh coat of white paint was added all around. The new lofty digs are much lighter and brighter than the previous store, which was actually a little bit larger but which didn't have ample parking or a warehouse attached.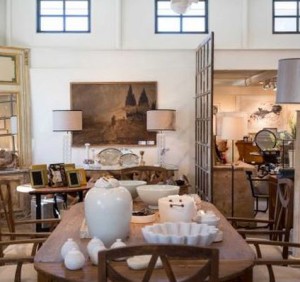 Inside the store, as has always been the modus operandi of Connelly and store director Daniel Cuellar, thoughtfully selected antiques mingle with contemporary pieces. "New gives an edge to the old, and adds sex appeal," said Connelly, who does most of the store's European buying while Cuellar covers the American market.
"Mixing new and old is very popular right now," added Cuellar, "but we've been doing it since 1995."
There's an element of discovery when shopping at Area – the roughly 5,000-square-foot store is arranged in loose vignettes, all of which feature a variety of furniture, lighting, objets d'art and décor accessories. Cuellar and Connelly, who have worked together for two decades, both agree that there's no general method to what they buy or in how it's all arranged; they just buy things they like and display as they please. The result feels both fresh and cohesive.
Larger furniture pieces are mostly European antiques that have a lovely broken-in feel, such as a towering 19th-century French pharmacy cabinet or a silver chest from that same era. There also are statement antique pieces, including a vintage bird house and lamps incorporating industrial gauge boards or wheels. Lower-priced giftables include silver frames by Tizo; a large selection of trays in slick wood or wrapped in leather; horn-handle magnifying glasses; daffodil-shaped candle holders sprayed in gold; coffee-table books; and candles by the likes of Lafco, Tocca and Tatine. Artwork by Texas artists also is for sale, and everything is peppered throughout the space.
Price points vary. Bowls, for instance, range from $30 blown-glass versions to fancier Waylande Gregory bowls, which retail for up to several hundred dollars. Gift wrapping is complimentary.
Area's longtime fans shop the store often ("sold" tags flap on items throughout the space), as merchandise is constantly changing, according to Cuellar. Houstonians also may like visiting because the atmosphere is unstuffy, and customers are treated cordially.
"We're both from here, and we like to take care of the mom and pop vendors," Cuellar said of himself and Connelly. "If I were to describe the store in one word, it would be 'familial.' We're nice to people."
Jody Schmal